Ever since the COVID-19 pandemic swept the nation – and world, for that matter – people have invested more time, energy, and effort into the cleanliness of their surroundings. Whether it's your personal home, the local businesses in your community, or the community itself, people's expectations have evolved.
The public's sudden obsession over cleanliness and disinfection has caused a massive surge of interest in professional cleaners, professional cleaning companies, and the professional cleaning industry as a whole – especially since people now understand the cause and effect associated with certain diseases.
If you're seeking the assistance of a professional cleaning crew, it's important you understand what you're getting because not all cleaning companies are created equal. Some companies might only specialize in cleaning certain properties, which could negatively impact the overall quality and reliability of the work.
What Does a Commercial Cleaner Do?
Professional cleaning companies can be grouped into one of two (if not both) categories – residential and/or commercial. The former specializes in cleaning homes and personal living spaces, while the latter specializes in properties used for business purposes – usually on a much larger scale than residential.
Let's take a look at some of the different types of commercial buildings a commercial cleaning company can clean for:
High-rises, office spaces/buildings
Shopping plazas, retail centers, malls
Data centers, warehouses, factories, showrooms
Restaurants, fast-food chains, food manufacturers
Schools, universities, community centers
Government facilities, churches
Medical facilities, doctor offices, hospitals, rehab centers
Hotels, resorts, inns, motels
Depending on the contract they sign with their client, commercial cleaners will take on a variety of tasks and responsibilities – including, but not limited to:
Empty, collect, and take out all trash bins and wastebaskets
Sweep, vacuum, and/or mop all tile, carpet, and/or hardwood floors
Dust, wipe down, clean, and disinfect all hard surfaces
Organize, straighten up, tidy, and maintain public areas
Mirror- and window-cleaning
Dust, wipe down, and clean walls and ceilings
Sanitize areas/items of high-use (door knobs, light switches, etc.)
Clean, disinfect, and maintain bathroom areas and break rooms
Ensure all amenities are stocked and available
Commercial cleaners will either clean daily, weekly, or monthly – this mostly depends on the tasks at hand and whatever's in the best interest of each client. They can also offer basic cleaning or deep cleaning services. Cleaners with the necessary experience understand what certain companies need and can help their clients navigate the many options available to them.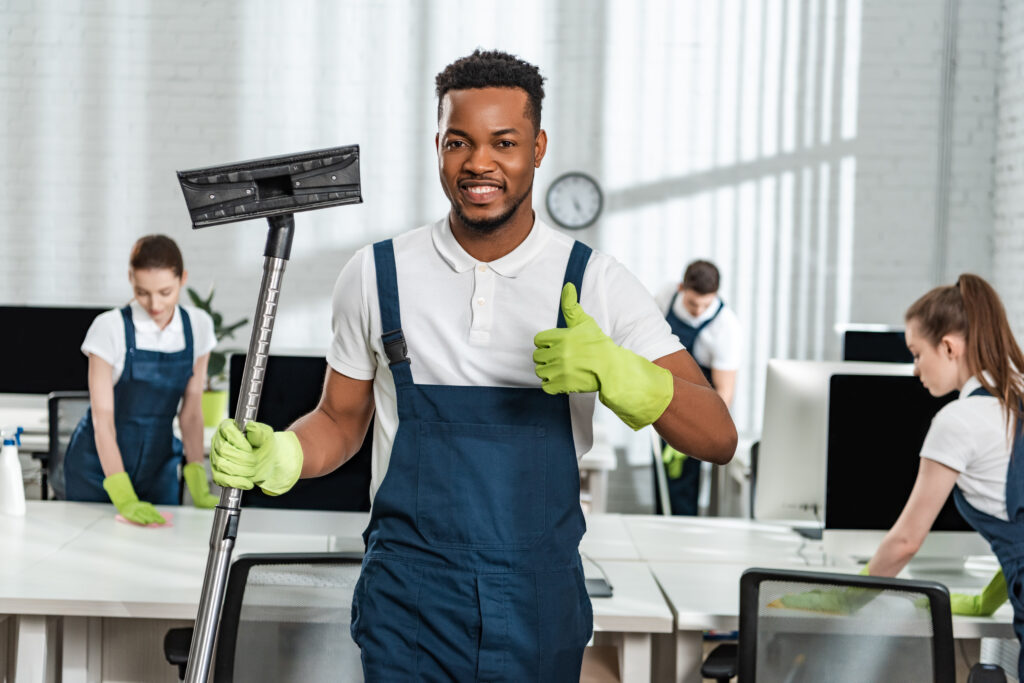 Why Do I Need a Commercial Cleaner?
While many business owners in today's society are on-board with the importance and overwhelming need for commercial cleaning services, not all business owners can say the same – they either take care of their cleaning in-house or they, unfortunately, neglect the act of cleaning and/or disinfecting altogether.
Let's take a look at some of the most prominent ways a business could benefit from a commercial cleaning service:
Prevents the spread of disease and illness among customers, employees, and guests
Comply with the latest health and safety regulations and standards
Save you and your team valuable time knowing the cleaning is taken care of
Impress customers and guests with your dedication towards cleanliness
Less overhead and much easier management of cleaning-related tasks
No need to invest in equipment and/or training to ensure the job is done right
Commercial cleaning services have the experience, knowledge, and skills necessary
A clean business is essential to increasing the satisfaction of your customers and your employees, further helping you establish your company as a leader in your industry. You'll see your reputation improve and will ensure your property has the health and safety of its guests in its best interest – which is important.
What Skills Should a Cleaner Have?
Like we mentioned in the intro, not all professional cleaning companies are created equal. Some are more experienced, some are more talented, and some are more prepared to take on the extreme demands of maintaining a clean environment. This can make finding the right cleaning company quite challenging.
Don't worry, we're going to detail some of the most prominent skills your commercial cleaners should possess:
Cleanliness and organization
Time-management
Versatility
Teamwork and communication
Hard work, determination, and drive
Friendliness and likeability
Understanding of different cleaning supplies and cleaning chemicals
Understanding of different regulations and/or standards
An 'eye' for the job
Of course, skills are best served with experience. Through experience, those skills are applied and eventually sharpened as a result of practice. Commercial cleaning companies with experience also know the 'tricks of the trade' that ensure tasks not only get done, but do so in an efficient, structural, and methodical way.
How Do I Choose Commercial Cleaning Services?
Understanding the skills your cleaner should have will certainly help narrow down your options when searching for a quality cleaning company, but there's a lot more that goes into that process. In other words – just because a cleaning company has the skills, doesn't mean they're the best option for you.
Let's take a look at some of the other qualities and traits you should look for in a commercial cleaning service:
Stellar reviews and positive testimonials from past clients
All the necessary certifications and/or training required
Availability, especially if needed daily or several times per day
All the newest, best, and state-of-the-art cleaning equipment
Efficient techniques and effective methods
All the necessary bonding and insurance coverage
A positive track record that proves reliability and quality
Once you've narrowed your options down to a couple different options, give each company a trial run or hire them to a temporary contract so you can get a better feel for their work. At the end of the day, make sure you're comfortable with the decision you're making and don't just hire the first company you find.
Are you interested in learning more about what commercial cleaning services have to offer? Is your business ready to invest in the cleanliness and overall appearance of your property? Are you ready to make a good first impression with your guests? If you answered yes to any of those questions, contact us!
At Crime Scene Cleaners NW, we proudly serve the Seattle and surrounding area. To receive a free estimate, you can call us at 206-940-5307 or email us at [email protected] – we look forward to speaking with you!