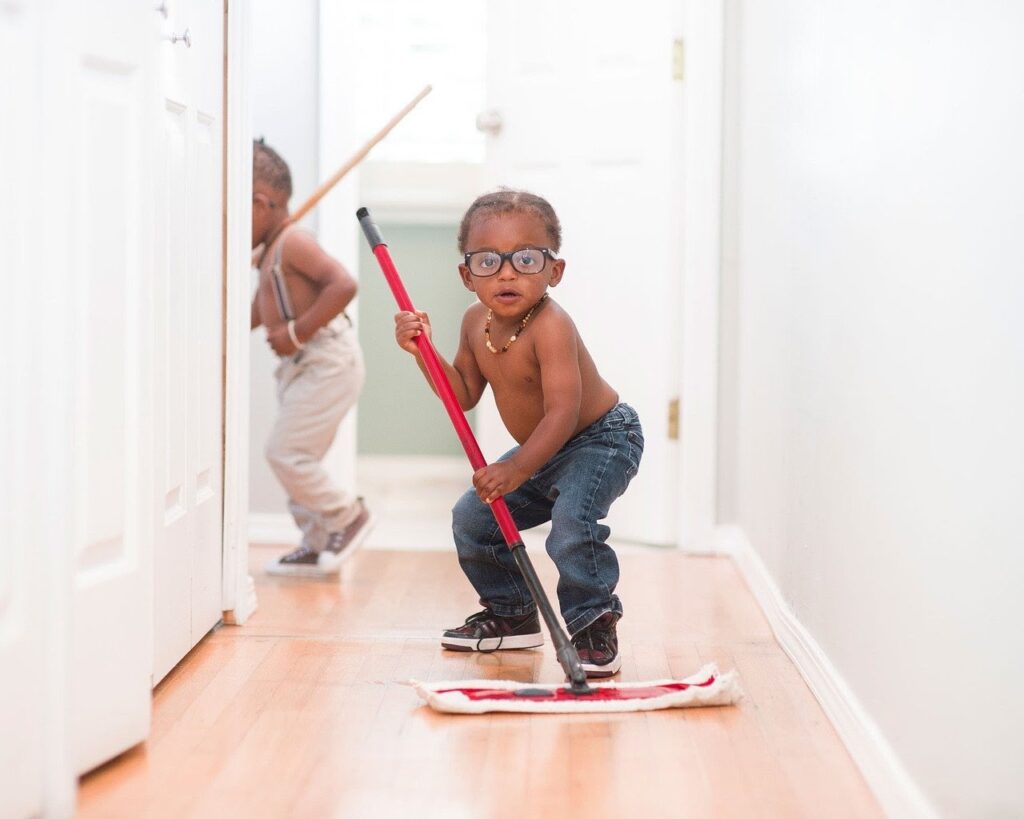 There's no denying the importance of cleanliness for any business, no matter what industry you're in. With that said, business owners often have two choices to make when keeping their property or facility clean – hiring a professional cleaning company or putting together their own, in-house cleaning crew.
An in-house cleaning crew gives you complete control over each individual cleaner and allows you to closely monitor their performance. At the same time, in-house cleaning crews take more time, energy, and effort to manage on a daily basis – not to mention the headache of purchasing supplies and equipment.
All of this can be saved by hiring a professional cleaning company. They help business owners limit the amount of overhead – giving them more time, energy, and effort to utilize elsewhere in the business. It's a win-win for everyone involved, including the business owner, employees, customers, and general public.
Commercial Versus Residential Cleaning
A professional cleaning company can do so much for you and your business, but that doesn't mean all professional cleaning services are created equal. In fact, there are several different types of cleaning companies – two of the most popular being residential cleaning service and commercial cleaning services.
Let's take a closer look at the differences between the two:
Commercial Cleaning Company – cleaning services targeted towards businesses and commercial buildings, such as offices, schools, medical facilities, restaurants, gyms, industrial facilities, and more.
Residential Cleaning Company – cleaning services targeted towards residential buildings, including homes, townhomes, apartments, condos, or any other building that provides living arrangements.
Business owners are going to want to find a cleaning company that specializes in commercial services. These are the companies that have the experience, equipment, and staff to accommodate the fast-paced environment you work in – ensuring your employees and customers are satisfied with the cleanliness.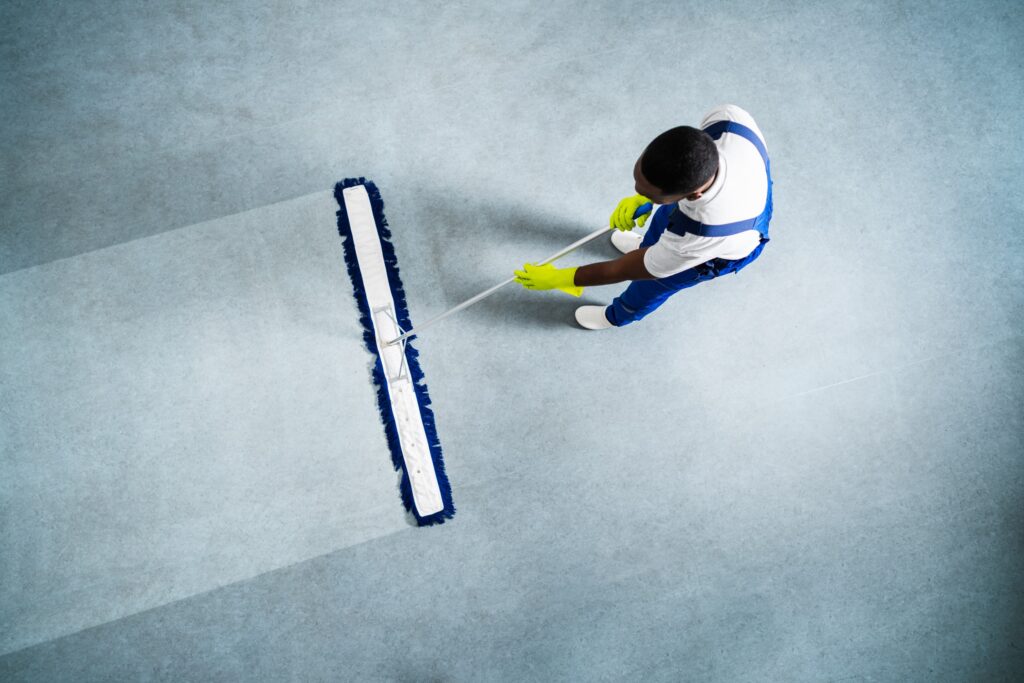 What Do Commercial Cleaning Services Offer?
Commercial cleaning duties are very similar to those of residential cleaning, but are generally done on a larger scale and take into account the higher amount of traffic businesses receive on a day-to-day basis – compared to a home. With that said, the exact services offered are going to vary business to business.
Let's take a look at some of the most common commercial cleaning duties:
Collect and take out the trash and recycling
Vacuum, sweep, and mop floors
Dust and wipe down all hard surfaces
Office cleaning
Janitorial cleaning services
Straighten up and tidy public areas
Window cleaning and mirrors
Spot clean walls and ceilings
Sanitize door handles/knobs and light switches
Clean and disinfect bathroom areas
Anything else a company needs cleaned or sanitized
Most commercial cleaning companies provide two different services – basic cleaning and deep cleaning. As the name suggests, deep cleaning methods are much more elaborate and while they cost more than a basic cleaning service, the results are unparalleled. It all boils down to what your unique company needs.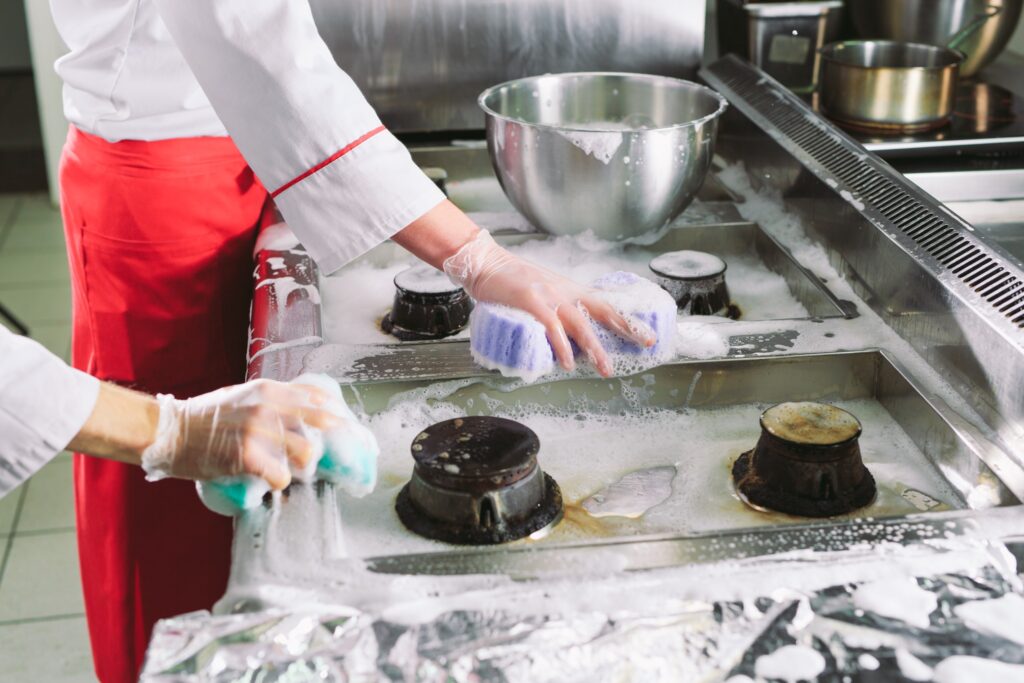 Pros and Cons of Hiring a Commercial Cleaning Company
Maintaining a safe and clean environment is as necessary as anything else in life, but those stakes are raised for any company that sees an influx of people on a regular basis. And while a commercial cleaning company could be the answer for you and your business, it's not a practical solution for every business.
Let's first take a look at some of the advantages of hiring a commercial cleaning company:
Improve customer and employee satisfaction
Comply with all the latest health and safety guidelines
Improve employee productivity (less time spent cleaning)
Prevent the spread of illness in your establishment (less sick days)
Customers are impressed by the cleanliness and overall appearance
Employees are happier and more energetic in a welcoming environment
Less overhead and compartmentalize costs towards cleaning
Trained individuals with years (sometimes decades) of experience
More storage space (less cleaning supplies)
Commercial cleaning companies use state-of-the-art equipment
Now, let's take a look at some of the disadvantages of hiring a commercial cleaning company:
Can be more expensive short-term, but not so much long-term
Companies usually have other clients, meaning yours isn't always top priority
Less control over the methods used and individual workers
Must find a company that fits your work schedule and is reliable
Perhaps one of the biggest advantages of hiring a commercial cleaning service is how versatile they are. They take into account what each company needs and offer customized packages to ensure their clients are satisfied. At the end of the day, your employees and customers should be treated like royalty.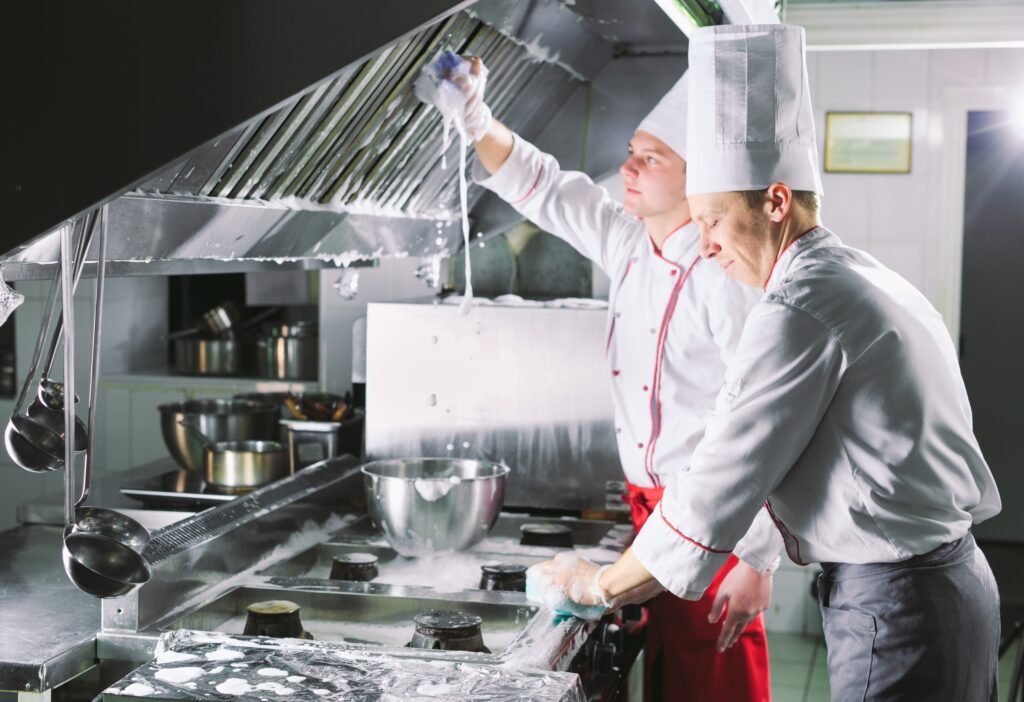 Signs Your Business Needs Commercial Cleaning
There comes a time when every business needs to make the transition from an in-house cleaning crew to a professional commercial cleaner. Sometimes the signs are obvious, while other times they're a little harder to accept. Either way, the success and general perception of your company could be at risk.
Here are some of the most telling warning signs that your business could use commercial cleaning:
Your business deals with hazardous material that's best handled by a professional
Your business has strict sanitary rules, laws, and guidelines to follow (restaurants, gyms, etc.)
Your facility needs deep cleaning beyond what your employees can achieve
You don't have the means to invest in the equipment needed to clean your business
Your business' reputation is suffering as a result of poor cleanliness
Your business doesn't have the time or money to afford a quality in-house cleaning crew
Businesses are usually surprised at the day-to-day difference commercial cleaners make. Whether you require their services daily, weekly, or monthly, it's a noticeable difference that helps establish your company as a leader in its industry – so long as you find the right company for you.
Different Types Of Cleaning
Commercial cleaning is not cleaning while watching commercials. So what is commercial cleaning? The answer is multifarious, and the topic for this article. To begin to learn about this area of the cleaning industry, first we need to understand the difference between commercial cleaning and other types, like residential cleaning.

While you can hire residential cleaning services for your home, if you're a business owner, you can hire commercial cleaning services for your business. Certain professional commercial cleaning companies specialize in specific areas with a higher demand, things like office window cleaning, graffiti removal or crime scene cleanups.
What To Expect
A commercial cleaning service provider will set up a cleaning schedule for your particular cleaning tasks to be performed. You can go over things like the cleaning jobs you'd like to have done, and how often you'd prefer each of them to be completed. If contracted, commercial cleaning services will provide some consumables, including things like paper towels, liquid soap, trash can liners and toilet paper rolls.

You should put together a commercial cleaning checklist before calling a company. A professional commercial cleaning business will come visit the premises firsthand, discussing exactly what you're looking for, then put together a quote.
Equipment And Protocols
The commercial cleaning company of your choice will also have professional cleaning equipment, including things like floor polishers and carpet cleaning machines with upholstery cleaning tools. They will use specific cleaning processes for their cleaning machinery that involve strong chemicals and products for industrial use.

In addition, a commercial cleaning company has certain protocols for particular cleaning methods and chemicals or cleaning products that they use, depending on the industry. The ISSA or International Sanitary Supply Association, along with the British Institute of Cleaning Science or BICSc, set standards for owners of commercial cleaning companies.
Scope Of Commercial Cleaning Work
A commercial cleaning company will provide practically any commercial cleaning service your business needs. This includes tasks that are either internally or externally located, and whether some or all of them are scheduled daily, weekly, monthly, yearly or even one-time projects. A decent professional commercial cleaner will also have the equipment necessary to get the jobs done right, no matter what they may be. Customization is key!

For instance, some things associated with cleaning offices or workspace areas are jobs such as; mopping floors, carpet cleaning, keeping the workspace refrigerator and microwave (communal appliances) sanitary and clean, cleaning windows, bathrooms and bathroom supplies, etc. When a specific cleaning process is required, your commercial cleaning services will provide the correct solutions.

Other examples, such as when referring to cleaning rental properties, might be things like touch-up upholstery cleaning, floors and windows, dusting or polishing and other residential type cleaning services for a home (or homes), possibly at several different rental properties or locations.

Outdoor tasks can involve other kinds of specialized equipment designed specifically for use in industrial maintenance and commercial cleaning services, and should be easily handled. Any routine tasks that help keep the exterior and grounds clean and well-maintained, can be assigned to a commercial cleaner.
Why Hire A Commercial Cleaning Service?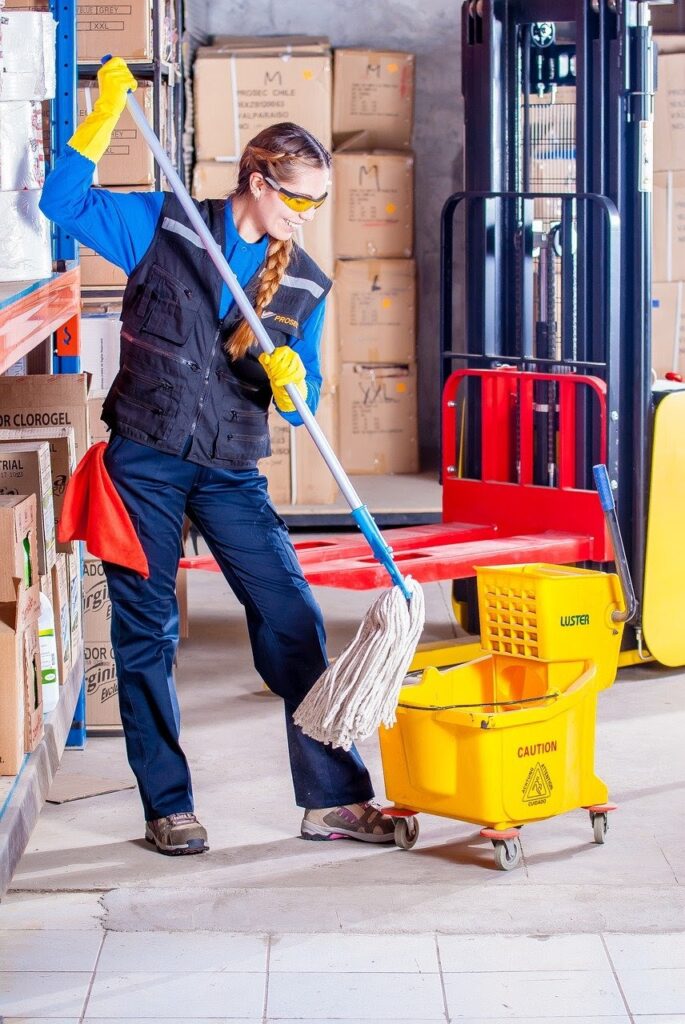 As a business owner today, many others depend on you for a variety of things. You have a responsibility to provide a clean and healthy work environment and workspace for your employees to function in, at your place of business. Whether you have a retail store or office space (and everything in between), you're definitely going to need commercial cleaning services to help maintain that healthy work environment for your staff.

In partnership with a good commercial cleaning service, this can be accomplished both efficiently and effectively. Crime Scene Cleaners has been in business for 25 years now, and is a perfect example of an excellent, professional provider of commercial cleaning services that can meet your company or home professional cleaning needs.
Crime Scene Cleaners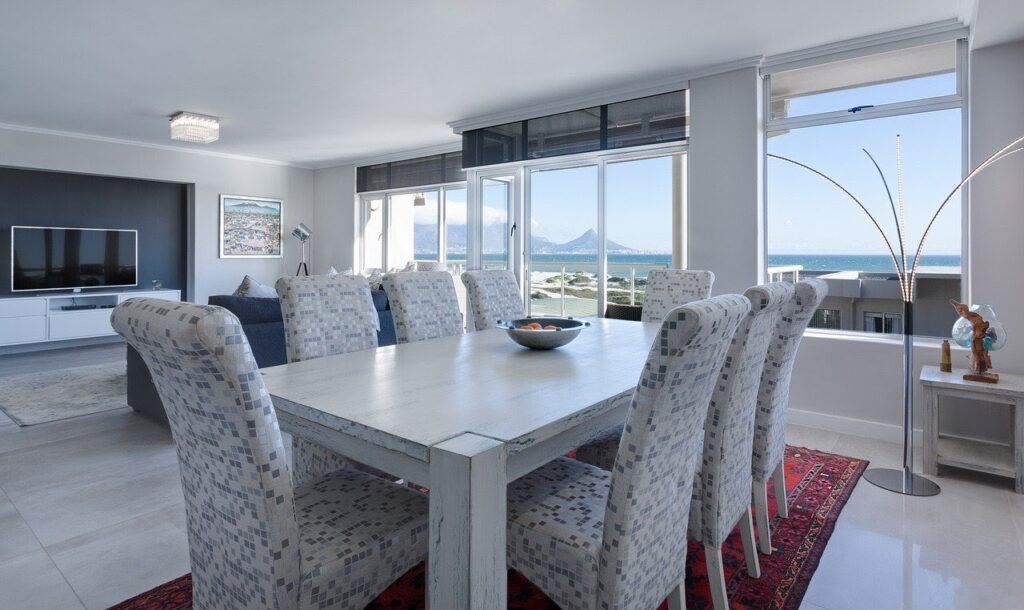 There are lots of professional cleaning businesses out there to choose from, but only one who can handle any type of cleaning job. Here at Crime Scene Cleaners, we handle all kinds of professional cleaning, including home or residential cleaning as well as commercial cleaning services, and specializing in crime scene cleanups and biohazard waste removal and disposal. We have the equipment and experience necessary to take on any job, big or small. Our employees are discreet and professional, and well-trained in providing the most efficient service possible.
Standards Of Excellence
Crime Scene Cleaners is a terrific example of an ideal cleaning company to hire for all your commercial cleaning needs, because we have the dedication and years of experience in the field you want. Our employees are both well-trained and well-aware of any special protocols required for certain types of special cleaning procedures.

We wear the appropriate PPE equipment in any potentially bio hazardous situation, and are certified in biohazard waste removal and disposal. We also have 25 years of experience, and represent the difference in standards and quality of service which places us above the competition.
Services Offered
We believe in our quality of service and reliability, combined with our foundation of professionalism, trust and discretion. Here are just a few examples of cleaning services we've provided for:
Unattended deaths
Biohazard waste cleanup and disposal
Contaminated or condemned buildings
Chemical spills or laboratories
Business facilities
Office cleaning
Construction site cleanups
House cleaning – interior, exterior or both
Bed bug cleaning and treatment
Hoarder cleanups
Residential house cleaning – one-time projects or regularly scheduled sessions
Commercial cleaning – one-time projects or regularly scheduled sessions
Any professional cleaning job or task is within the scope of work we do, here at Crime Scene Cleaners NW. Specializing in crime scenes and biohazard waste removal and disposal, you know we have what it takes, plus have seen every type of scenario you can imagine, and then some!
In Conclusion
So for any type of commercial cleaning services (or other type) you require, no matter what condition or circumstances you're in, contact us here at Crime Scene Cleaners NW, the first and last word, in professional cleaning. We will discuss your particular situation, and answer any of the many possible questions you may have. Call to find out all the ways we can help you make a visual difference to either your home or your company – or both – ! Also check out our post on cleanup and disinfecting after suicides.