Crime Scene Cleaners NW is a locally owned and operated biohazard cleaning service. CSCNW provides expert and discreet support during traumatic events. Founded in 2008, we have helped our clients in the Pacific Northwest through events that they were not prepared for with our excellent service and professionalism.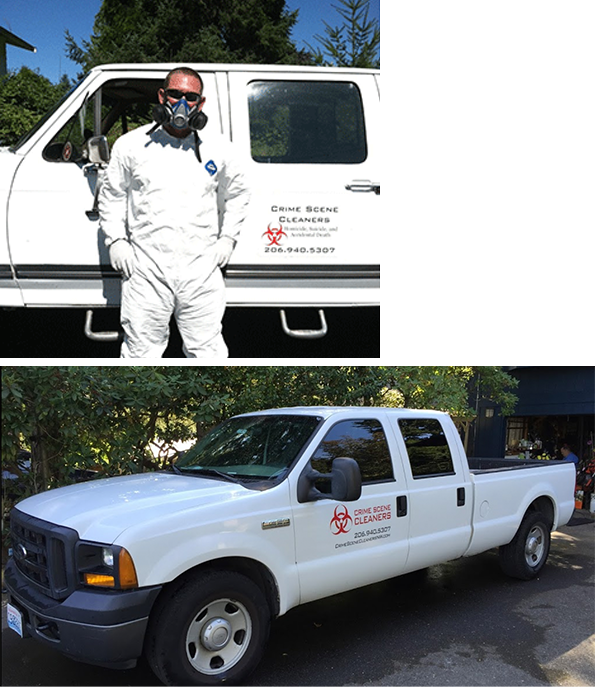 Crime Scene Chris did us a solid for a biohazard situation of us finding out a rat had been living in the back of our fridge temporarily-- no one else would come out. Super grateful for his expertise, he gave us some pointers on cleanup and even went out of his way to look at the wiring to confirm the fridge was okay. He wouldn't even take payment which was extremely generous and very appreciated. Glad humans like him exist!
Review by Amy Boylan-Mendes: Chris and his assistant did an amazing job cleaning up my family home. A shooting had occurred in the home and my family was spun...he was extremely professional, caring and sensitive to the situation!! Thank you a million times over!! Amy Boylan-Mendes Stephanie Boylan Elizabeth Lundvall
Chris was so helpful. Thank you for your help with the entire cleanup I never expected you to be able to clean the entire thing and the process was flawless. Most people won't need this but those few of us really need guys like this. Thank you.
Skyler Thompson
2019-11-28
Super happy that I chose crime scene cleaners to help me with my new listing in Seattle. Initially bought the place thinking it wouldn't be that bad but turned out it was going to be a way bigger job than I had intended. I was going to just clean the place myself but that proved to not be a great idea. I spoke with the owner Chris and he was super friendly and was awesome to work with. He got me an appointment and everything was done in a timely manner. Probably 1000 times faster than if I would've done it myself xD Definitely check these guys out. Super well priced and great crew. Thanks guys!
Martin Mccarthy
2019-11-09
Most people will never need this type of service in their lifetime but if you need them YOU REALLY NEED THEM! Its the kind of work that only true experienced professionals should take on. The range of skills needed to do this work properly is quite vast. From bio hazard and structural evaluation to sensitivity and diplomacy. Chris, Katie and the crew are experts! Their Integrity and diligence make them top in their field. Fine people!
Rece Jay Newton
2018-12-12
Chris was wonderful from the start! He was extremely responsive and communicative. He answered all of my questions and was compassionate about the situation at hand. He came by and worked extremely hard to make the place tidy. Somehow, he was able to get rid of the smell that was permeating throughout the house and left everything spotless! When he left the space smelled like a fresh breeze and he made sure to go over everything he did. I highly recommend Chris!
Chris responded immediately to help me clean up the mess (blood & drugs) from a tweaker that decided to camp at my vacant house for sale. He was concerned for me, inspected the house thoroughly looking for needles, hidden drugs, etc and proceeded to clean up the mess left behind. I am grateful to his professional response to my trauma. He completed the job efficiently and quickly. I would heartily recommend his serviced.
Darcy Niedermeyer
2017-09-15
CRIME SCENE CLEANERS NW
10000 Lake City Way NE
Seattle, WA 98125
Call us at 206-940-5307 or contact us below
"I would like to thank the Crime Scene Cleaners NW for the professional cleanup job they did for my family after we lost a family member. They even took time to calm me my nerves. They got the job done in a timely matter and their price was reasonable. I will be referring them to anyone that might can use their services. Keep up the great job."