A Career Challenge
If you are just starting out and you're interested in doing cleanup work at crime scenes, would you have what it takes to do the jobs? And speaking of this, what kind of requirements are there, to land one of these jobs? If you've ever wondered about this or any other type of crime scene-related cleanup work, let's see if we can find some answers.
First of all, you'll need a high school diploma or at least a G.E.D., depending on where you want to work. A reputable company will require their technicians to obtain certifications or take college classes in things like blood-borne pathogens, hazardous materials transportation, personal protective equipment (PPE) training, airborne pathogens and hazardous waste generation. Also, if you have any experience with emergency medicine, forensics, or public health, this can be extremely useful. The use of various tools and machinery in these jobs often comes in handy when cleaning up crime scenes, as well.
This position is physically demanding and often mentally draining, so you must be in really good shape overall, to do it. From moving heavy furniture to lengthy, extensive cleaning jobs, there is a lot of manual labor to be accomplished daily. Most companies will require you to undergo a criminal background check, and pass a drug test. You also may be subjected to random drug testing, to maintain your position.
 A forensic cleaner or technician is a serious and dedicated position for someone who is looking for a career. The ideal candidate handles themself professionally and has a lot of self-discipline and willpower. It is designed for someone who wants a career and has long-term goals they want to accomplish. Believe it or not, a forensic technician or cleaner has an extremely mentally and physically challenging job.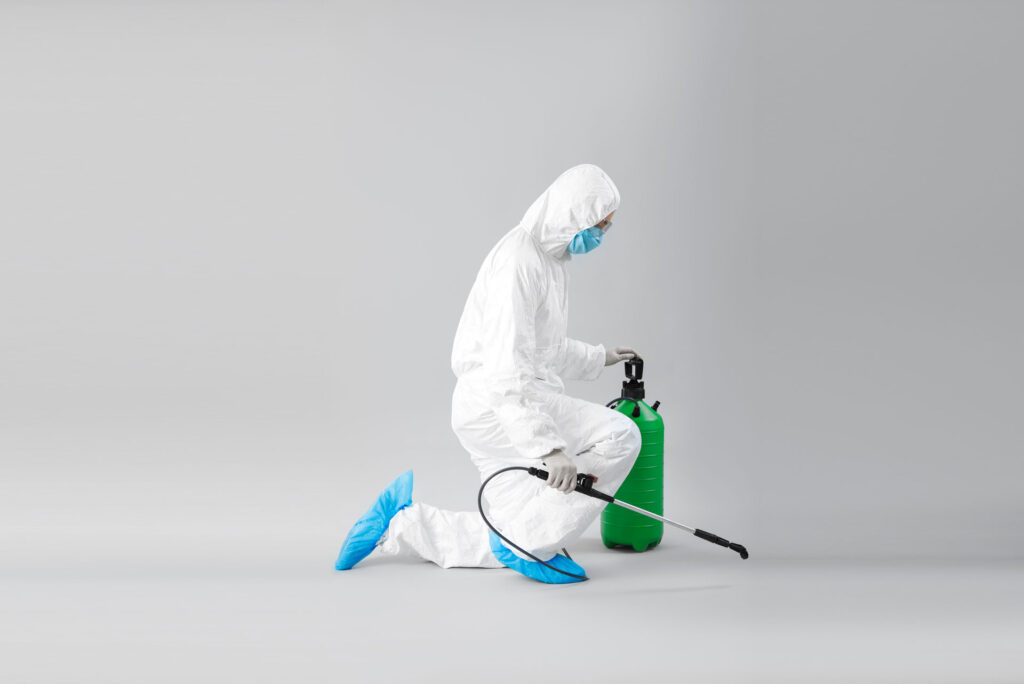 Biohazardous Waste Etc.
One of the things you have to deal with when cleaning up crime scenes that you don't have to worry about with other cleaning jobs is biohazardous waste. This is because many crime scenes involve blood or other bodily fluids. This is where knowledge of blood-borne pathogens comes in handy. This is also where OSHA standards come in, and why they play an important role in crime scene cleanups. Whatever company you work for, it's important for them to license and operate vehicles that adhere to the strict laws governing the transportation of biohazardous waste materials. Knowing how to handle this type of waste is one of the most important aspects of your job. In fact, you must wear a biohazard suit with a helmet and protective gear, as a part of your job cleaning up crime scenes. It can be seriously dangerous work. You will need to be sure that you can do what needs to be done, before committing to a job like this.
OSHA stands for Occupational Safety and Health Administration, and it is their standards that dictate how all businesses and employees handle blood-borne pathogens, respiratory risks, and working in confined spaces. These are all things that crime scene cleaners also go by. Often, specialized permits or licenses are needed, such as a Medical Waste Transportation Permit, or a Hazardous Waste Transporter License Certificate.
Different states and local officials require different permits and/or licenses to operate crime scene cleanup businesses and thus transport biohazardous waste. To effectively clean a crime scene, you must contain it, clean it and disinfect it, all while maintaining the safety of everyone involved. You are required to restore the area to the way it was before the incident, ideally so that you can't even tell anything that happened in the first place. In order to do this successfully, it takes experience and "on-the-job training", so to speak.
You will be working with professionals from all walks of life, and so need to be able to handle yourself accordingly. Although technically you don't need a college education to qualify for this job, it is definitely a competitive field and a great career opportunity. It's one of those jobs that the more experience you have, the better position you'll be qualified for. A real opportunity for a career in this field exists for anyone with the determination and diligence to make it happen.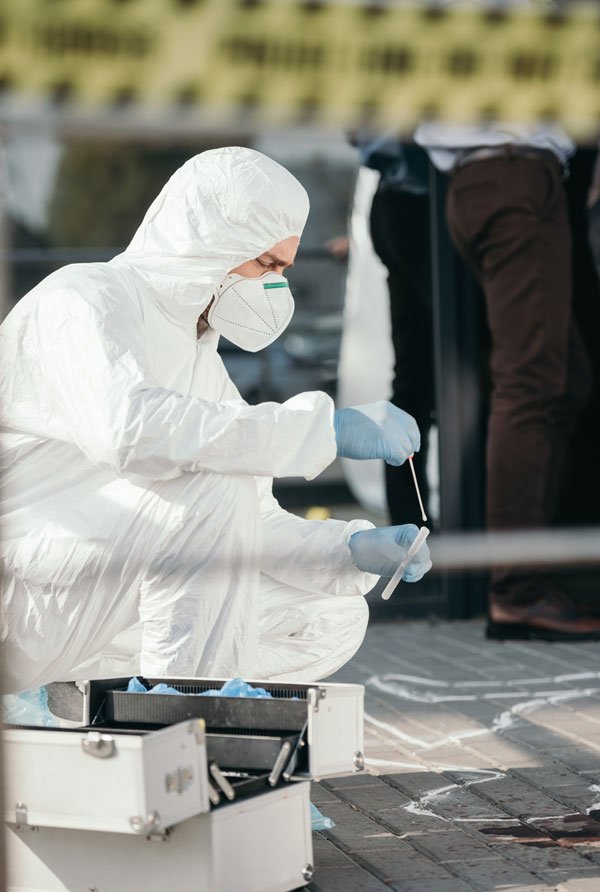 Crime Scene Duties
Once you gain some experience and insight on more common types of crime scenes, you'll get a feel for the procedures and develop your own way of doing things to make it easier and more efficient for you. As a crime scene cleaning tech, you will be expected to perform many different duties depending on the circumstances. You may be consoling people who witnessed the crime or helping grief-stricken family members come to terms with details of the crime.
You may be decontaminating a toxic area, or sorting through a hoarder's home. Some of the situations you may be called for include suicide cleanup, unattended death cleanup, murder clean up, meth lab cleanup, accident cleanup, decomposed body clean up, tear gas cleanup, hazardous material cleanup, traumatic cleanup, tragedy cleanup, homicide cleanup, etc.! Needless to say, you will be on call 24 hours a day, 7 days a week, as a crime scene cleaner. Cleaners undergo extensive training to ensure that all regulations are followed in regards to body fluids and blood-borne pathogens.
OSHA has set forth strict requirements for the disposal of human blood, body fluids, body parts, pieces, and organs. You must wear protective gear including a full hazardous material suit and respirator, and in fact, may be required to get certified in PPE equipment and safe practices. Training is definitely a part of the job, and each one has its own set of challenges. Sanitization technician work is not for everybody, especially if you have a weak stomach.
Cleaning crime scenes usually involve bodily fluids like blood, bowels, and bile, and can include body decomposition, and more. It is not for the fainthearted. The requirements for crime scene cleanup vary between companies, but for the most part, you must be dedicated, willing to work long hours and be on call 24/7, a hard worker, have the innate ability to be both professional and compassionate, and be detail-oriented.
These are just a few of the top qualities necessary for this demanding job. But it's a terrific career that doesn't require a college degree, so if you don't mind hard work and doing jobs most people find repulsive, check out what's available in your area. These companies are always hiring determined, devoted people.
Be sure to contact us if you have any questions!